About
I do not know of this "obsession" you speak of. Uh. I'm a resident of the United States of America. I love anything British telly basically. Stuffs I Obsess Over:
Sherlock
Doctor Who
The League of Gentlemen
Free! Iwatobi Swim Club
Fullmetal Alchemist
Kuroko no Basket
Hetalia
other anime
WARNING: I tend to go on fandom sprees where I reblog the shit out of one fandom and ignore everything else. If you look at my archive you can see what I mean. I apologize for the spam in advance. ALSO: This blog can be NSFW. I tag it as such,but be warned. AHEAD THERE BE DICKS.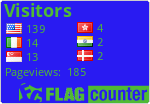 AoKiKaga College Band AU 1st Set

Found this prompt over at the kink meme on dreamwidth. The OP...

All about the BJ

Couldn't get this request out of my mind when I read it, so I had to write it out...

[R18] 火緑無配 by 西

[R18] KagaMido Free Book by Nishi

Pairing: Kagami Taiga x...

A little bit of KagaAo to brighten your day ...

Working on the next part of Wildcat Blues as...
People I follow