About
I do not know of this "obsession" you speak of. Uh. I'm a resident of the United States of America. I love anything British telly basically. Stuffs I Obsess Over:
Sherlock
Doctor Who
The League of Gentlemen
Free! Iwatobi Swim Club
Fullmetal Alchemist
Kuroko no Basket
Hetalia
other anime
WARNING: I tend to go on fandom sprees where I reblog the shit out of one fandom and ignore everything else. If you look at my archive you can see what I mean. I apologize for the spam in advance. ALSO: This blog can be NSFW. I tag it as such,but be warned. AHEAD THERE BE DICKS.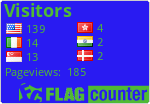 People I follow